Bottlebrush Buckeye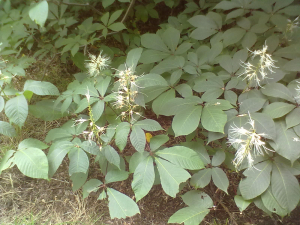 Observation - Bottlebrush Buckeye - UK and Ireland. Description: Substantial shrub, slightly layered appearance of the branches: leaves very much in the style of Horse Chestnut (Aesculus) although smoother, veins less prominent. Leaves were: (deep breath) Opposite (in pairs across the branch), palmate (in segments l
Substantial shrub, slightly layered appearance of the branches: leaves very much in the style of Horse Chestnut (Aesculus) although smoother, veins less prominent.

Leaves were: (deep breath) Opposite (in pairs across the branch), palmate (in segments like fingers on a hand, in this case 5-7 leaflets), petiolate (stalked), ovate (widest at middle, tapering towards the point) (although I am prepared to be corrected on that description!)

Flowers in spikes, bottle-brush being a very good description of the arrangment: but instead of the usual gorgeous Horse Chestnut flower (just you look closely at one next year!) they have fringed, fluffy-looking blossoms.
Main navigation