Possibly Opegrapha atra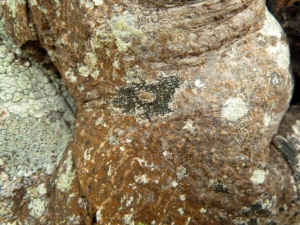 Observation - Possibly Opegrapha atra. Description: I found this one growing on the trunk of a beech tree and it is approximately 25mmx15mm. There were a few other small patches nearby. The thallus is whitish-grey with a hint of green and lots of tiny black lirellae, some of which appear slit down the
I found this one growing on the trunk of a beech tree and it is approximately 25mmx15mm. There were a few other small patches nearby.

The thallus is whitish-grey with a hint of green and lots of tiny black lirellae, some of which appear slit down the middle. As my close-ups were taken through a hand lens I'm afraid only the centre is in reasonable focus. Unfortunately I didn't have any chemicals with me to make tests.

Having looked at many other people's pictures on the Internet, I think this may be Opegrapha atra.