Ornamental tree, pinnate and armed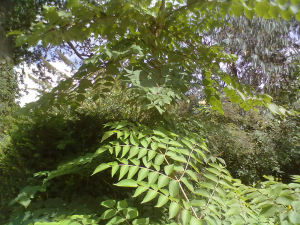 Observation - Ornamental tree, pinnate and armed - UK and Ireland. Description: Med/large ornamental tree, not actually sure if you would call these pinnate leaves: or opposite leaves on branchlets? Please advise, someone! Definitive characteristic; if you look closely, where each pair of leaflets join the central stem and are som
Med/large ornamental tree, not actually sure if you would call these pinnate leaves: or opposite leaves on branchlets? Please advise, someone!

Definitive characteristic; if you look closely, where each pair of leaflets join the central stem and are somewhat red, there is a sharp SPINE rising vertically. They were between half an inch and an inch in length. (I don't envy their gardeners having to weed around it). That's 1-2cm long.

I have never seen anything like this before, and would welcome suggestions.

In a "stately home" garden, so not your everyday tree.
Main navigation