ID on yellow flower please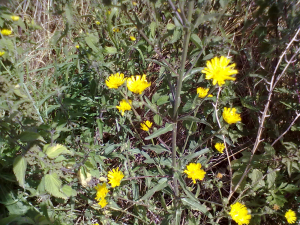 Observation - ID on yellow flower please. Description: 4' tall, branched herbaceous, lanceolate stem leaves (not able to see/reach basal leaves) not clasping: silver central midib. Lvs slightly crispy but not obviously toothed. Main stalk green, round, slightly ridged. Flowers in sparse group at top, al
4' tall, branched herbaceous, lanceolate stem leaves (not able to see/reach basal leaves) not clasping: silver central midib. Lvs slightly crispy but not obviously toothed.

Main stalk green, round, slightly ridged.

Flowers in sparse group at top, also singly on stalks arising from main stalk, pretty much all the way down. Flowers bright yellow, held like an Oxtongue (but leaves not bristly)/sow thistle (but leaves not clasping, nor pinnatafid).