Flying caterpillar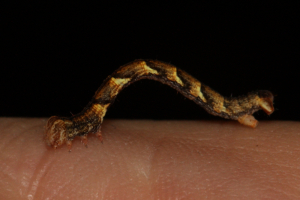 Observation - Flying caterpillar. Description: This one descended onto me on a silken thread so not sure of the foodplant. The woodland is mainly oak with a hazel understory but there are a fair amount of other broadleaved trees there. Length approximately 17-18mm. Provided with hazel which it ha
This one descended onto me on a silken thread so not sure of the foodplant. The woodland is mainly oak with a hazel understory but there are a fair amount of other broadleaved trees there. Length approximately 17-18mm.

Provided with hazel which it has not touched in three days. Provided with some oak on 7th October which it has started to consume.

By about 19th October caterpillar had stopped feeding and looked rather twisted (photo of caterpillar on pot lid illustrates). Had pupated by 21st October. Early February pupa started to darken.

This pupa never eclosed.

Pot RR