Ornamental tree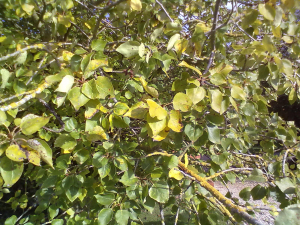 Observation - Ornamental tree - UK and Ireland. Description: Medium-sized ornamental tree, smooth pale grey bark, loose untidy habit, deciduous. Leaves shiny, rather poplar-shaped with elegant curve, pointed tip, slightly cordate base: arranged spirally, clustered towards tips of branches. Terminal buds redd
Medium-sized ornamental tree, smooth pale grey bark, loose untidy habit, deciduous.

Leaves shiny, rather poplar-shaped with elegant curve, pointed tip, slightly cordate base: arranged spirally, clustered towards tips of branches.

Terminal buds reddish-brown, shiny, (not sticky) and pointed: additional buds appearing just below the terminal ones.

Not Magnolia, or Bradford Pear. Any suggestions?
Main navigation