IMG_0998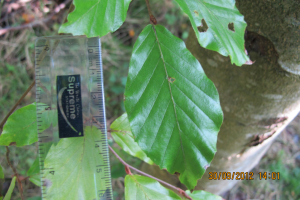 Observation - IMG_0998 - UK and Ireland. Description: A tree standing about 3 meters high. Leaves are green, oval with a wavy edge and come to a point at the end. They are about 5 to 6cm long and have a short stalk. The trunk was about 15cm in diameter and was greyish in colour. I think it may be an imm
A tree standing about 3 meters high. Leaves are green, oval with a wavy edge and come to a point at the end. They are about 5 to 6cm long and have a short stalk.
The trunk was about 15cm in diameter and was greyish in colour.
I think it may be an immature tree.
Main navigation