Caterpillar on Nettle Beginning Pupation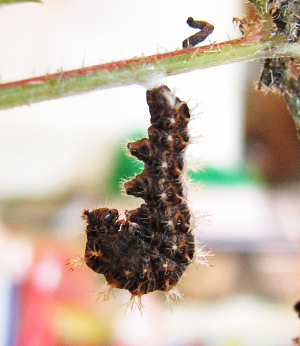 Observation - Caterpillar on Nettle Beginning Pupation - UK and Ireland. Description: About an inch long when fully stretched (which it was, earlier in the day and walking about on the nettle). Brown with orange ripples. White, branched spikes along white band along back. White spikes from dots along the side. Some white circles (withou
About an inch long when fully stretched (which it was, earlier in the day and walking about on the nettle).

Brown with orange ripples. White, branched spikes along white band along back. White spikes from dots along the side. Some white circles (without spikes) on side too.

Has fixed itself with a pad of whiteness to the lower side of a leaf stem on a nettle.
Main navigation