Don't try to swallow something bigger than your head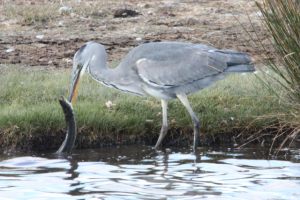 Observation - Don't try to swallow something bigger than your head - UK and Ireland. Description: Amusing to watch this bird trying to cope with a very large eel. It had caught the eel which was still alive (or at least reflexively thrashing around) and was trying to swallow it with little success for some time. The heron kept dropping the eel i
Amusing to watch this bird trying to cope with a very large eel. It had caught the eel which was still alive (or at least reflexively thrashing around) and was trying to swallow it with little success for some time.

The heron kept dropping the eel in the water, presumably to lubricate it, and then tried to swallow it by holding it up high, dropping it and trying lunge down with open mouth, seemingly in an attempt to get it further down the throat. This did not work.

The heron then stabbed the eel a few more times, getting it stuck on its bill and having to shake around to dislodge it.

Eventually it managed to swallow the eel, which continued the wriggle about in its throat (see last image).

Several carrion crows were keeping a eye on proceedings, clearly hoping to get a free eel supper if the heron failed to swallow it.

A separate entry for comments on identification of the eel is at http://www.ispot.org.uk/node/296114
Main navigation