Salman Rushdie mystery bird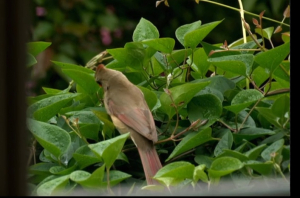 Observation - Salman Rushdie mystery bird - UK and Ireland. Description: I spotted this bird in very interesting BBC documentary The Fatwa, Salman's Story, about Salman Rushdie and the Satanic Verses affair. Soon after the fatwa was announced Rushdie took refuge with friends in rural Wales. The film shows this exotic species i
I spotted this bird in very interesting BBC documentary The Fatwa, Salman's Story, about Salman Rushdie and the Satanic Verses affair. Soon after the fatwa was announced Rushdie took refuge with friends in rural Wales. The film shows this exotic species in their garden. What is it and what was it doing in the middle of Wales?! I have uploaded a still from the film but much better to view the film on iPlayer here
http://tinyurl.com/8g9xyq9
The bird is clearly seen at 21.42. Weird!
Main navigation