IMG_3450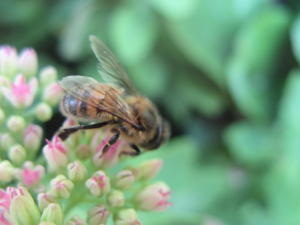 Observation - IMG_3450 - UK and Ireland. Description: There are many hundreds of these insects in my tiny front garden at present, on ivy flowers and japonese anemones as well as the plant in the photos.They are about 1.5cm long, 2 pairs of wings, furry. HQ is accesed under the guttering -presumably they hav
There are many hundreds of these insects in my tiny front garden at present, on ivy flowers and japonese anemones as well as the plant in the photos.They are about 1.5cm long, 2 pairs of wings, furry. HQ is accesed under the guttering -presumably they have built something in the loft but I daren't go up and look (though am tempted). They seem completely oblivious to humans - come within inches of myself gardening and passers by.
They look like honey bees to me,- but I've never seen so many together, or heard of them living indoors.
They appeared about 3 weeks ago.
Main navigation