Craterellus tubaeformis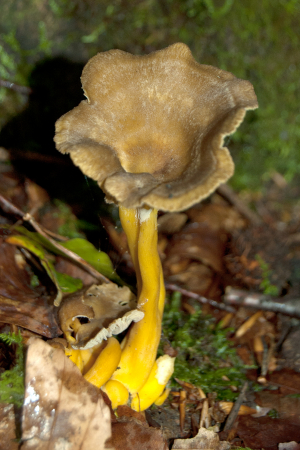 Observation - Craterellus tubaeformis - UK and Ireland. Description: This specimen was found in leaf litter beneath a beech tree. From Wikipedia: Craterellus tubaeformis (formerly Cantharellus tubaeformis) is also known as Yellowfoot, winter mushroom, or Funnel Chanterelle. It is mycorrhizal, forming symbiotic association
This specimen was found in leaf litter beneath a beech tree.
From Wikipedia: Craterellus tubaeformis (formerly Cantharellus tubaeformis) is also known as Yellowfoot, winter mushroom, or Funnel Chanterelle. It is mycorrhizal, forming symbiotic associations with plants, making it very challenging to cultivate. It is smaller than the golden chanterelle (Cantharellus cibarius) and has a dark brown cap with paler gills and a hollow yellow stem.
C. tubaeformis is a yellowish-brown and trumpet-shaped mushroom found in great numbers late in the mushroom season, thus earning the common name winter mushroom. The cap is convex and sometimes hollow down the middle. The gills are widely separated, and of lighter color than the cap.
Main navigation