Best photo of pores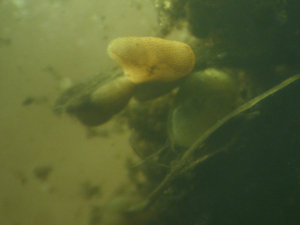 Observation - Best photo of pores - UK and Ireland. Description: Found in a rainwater-filled bucket in Surrey. Colour: pale straw-coloured to chocolate brown. Appears to be colonial, covered in small pores. My stereo microscope is limited to 70x. So I can't see great detail, especially through water. These were pho
Found in a rainwater-filled bucket in Surrey.

Colour: pale straw-coloured to chocolate brown.
Appears to be colonial, covered in small pores. My stereo microscope is limited to 70x. So I can't see great detail, especially through water. These were photographed at 22.5x, through the eyepiece.
Habit - sessile and attached to plant material – fine stems. I have found a half-dozen of these and they appear to have grown around the (update: grass) stem.

I first thought it might be a sponge, but I now doubt this. I failed to find anything like these in my freshwater wildlife books and have failed to find anything on the .net.

The ostracod is ~ 1 mm long.
Date of discovery 11th Sept 2012.
--------------
Update
The second and third photos were taken in shallow water, only a few mm deep. Not all these objects are the same. They appear to be of at least two separate types. The first are the golden yellow to brown types with a porous surface and variable shape. The second type is greenish-brown to dark chocolate-brown and mostly smooth, but at least one has ridges. The second group are broadly bean-shaped

If these had been laid on twigs out of the water, of rather larger size and found in Southern Europe, I would suspect they were potentially oothecae from a praying mantis, although I've not checked whether the shape matches any oothecae, because they clearly can't be those.

The length of these is roughly 1 mm. [Update: I've measured some of these and they vary from ~0.8 mm to ~1.5 mm] Measured with a Starna Micro-Mike 20x pocket microscope with a measurement graticule].

The history of the bucket of water is uncertain (I can't remember). Although, because it contains ostracods, I can only assume that it's had pond-water added to it at some time.
Main navigation