Common Lizard, Recently Lost Tail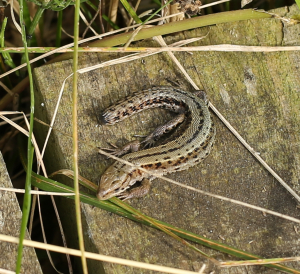 Observation - Common Lizard, Recently Lost Tail. Description: These lizards shed their tails if seized by them, so don't try picking them up from that end. Slow worms are the same, and probably sand lizards too (though I don't know that for a fact). This one is fairly recent. I don't know how this works; it may b
These lizards shed their tails if seized by them, so don't try picking them up from that end. Slow worms are the same, and probably sand lizards too (though I don't know that for a fact). This one is fairly recent.
I don't know how this works; it may be that there's just a weak point in the tail, or perhaps it's the lizard actively separates itself from the menaced portion of its tail. Perhaps someone knows?
The tail partially regrows. The third picture is another example from Wicken Fen, taken last year.

UPDATE: There are some items on YouTube showing lizards and tail loss. In these, the tail thrashes about after separation, presumably to divert the predator. Not Common Lizards in the UK, but I'd not be surprised if it works the same way.
I also found this: "Many such lizards possess special adaptations for tail loss, including weak fracture planes within each tail vertebra, muscular attachments that facilitate autotomy and tail movement after dismemberment, as well as mechanisms for rapidly closing off blood vessels and healing."