Barn Owl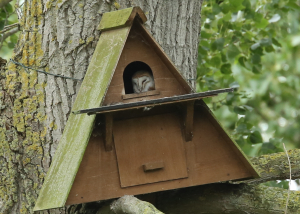 Observation - Barn Owl. Description: This owl box is often occupied during the day. No reason why not, I suppose. There are actually two of them in here, though the other one kept pretty much in the shadows, and you can't see it at all in this picture. Should it be Marsh and Bog as the ha
This owl box is often occupied during the day. No reason why not, I suppose.
There are actually two of them in here, though the other one kept pretty much in the shadows, and you can't see it at all in this picture.
Should it be Marsh and Bog as the habitat, or Woodland (it's in a tree)?