Hobby (probably not)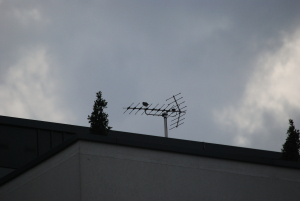 Observation - Hobby (probably not). Description: Another photo you may have to take my word for, this time taken with a proper (not phone) camera but a long long way away. Spotted this 'pigeon' flying across the road from left to right before realising it was just a bit too small for a pigeo
Another photo you may have to take my word for, this time taken with a proper (not phone) camera but a long long way away.

Spotted this 'pigeon' flying across the road from left to right before realising it was just a bit too small for a pigeon and it had scythe like wings and a longish looking tail. It also exhibited a distinct glide phase in flight. It ended up perched, facing the other way of course and into the sun, on top of the tv aerial to a newly converted block of flats. It took a little while to sink in but I was looking at a Hobby in the middle of Clapham Junction.

As luck would have it I was returning home from a day out and so had bins and camera. Spent a few minutes watching it through binoculars before putting the camera together. The photos are rather distant and I have played with exposure and cropped enormously and I'm still not sure if you can positively ID the bird from them or not; the pale rump is also giving me pause for thought. A juvenile? The photo used is the only one giving a hint of bill and head.