DSCF0880 (640x480)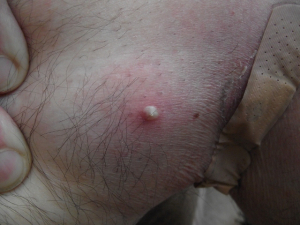 Observation - DSCF0880 (640x480) - UK and Ireland. Description: I've been getting these bites for about a year and a half, they end up being very debilitating. I'm trying to get this bite (see first photo)identified. It leads to scenes like the following two. I've not actually seen anything biting me, which makes it
I've been getting these bites for about a year and a half, they end up being very debilitating.
I'm trying to get this bite (see first photo)identified. It leads to scenes like the following two. I've not actually seen anything biting me, which makes it worse.
At the moment know one can identify it.

Does anyone have any ideas ?
Main navigation