Tiny bug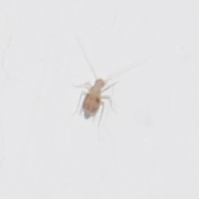 Observation - Tiny bug - UK and Ireland. Description: I have found a number of these over the last few weeks, in my toilet, on the wall. They are absolutely tiny. The one in the photograph is a large one at about 1mm long - so please forgive the poor quality of the photo's as I have no macro lens. They
I have found a number of these over the last few weeks, in my toilet, on the wall. They are absolutely tiny. The one in the photograph is a large one at about 1mm long - so please forgive the poor quality of the photo's as I have no macro lens.

They have perhaps come from the extractor fan in the toilet? It is slightly concerning, and I would like to know what they actually are.

I haven't seen them anywhere else in the flat.
Main navigation