Goldcrest Family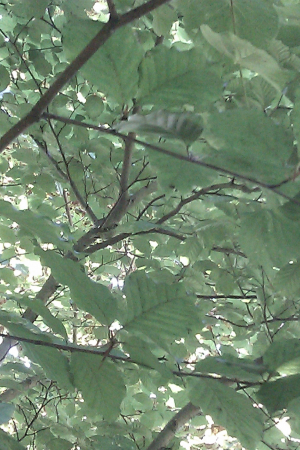 Observation - Goldcrest Family - UK and Ireland. Description: Typically had a wonderful view of a Goldcrest feeding a juvenile without proper camera (my phone camera is truly awful as you can see). It was such a good view, as close as a metre or so at times, I nearly popped the hour and a half home for some proper e
Typically had a wonderful view of a Goldcrest feeding a juvenile without proper camera (my phone camera is truly awful as you can see). It was such a good view, as close as a metre or so at times, I nearly popped the hour and a half home for some proper equipment. They seemed almost oblivious of me (though more wary of me when I returned after my meeting to try and get a better picture).

First alerted to the birds presence by constant, insistent, high pitched calling while having lunch I was delighted to find a loan juvenile being fed by what I think was a single adult. The juvenile stayed relatively in one spot just above head height whilst the parent darted around the tree looking for food, returning to feed the begging youngster.

Although the photos are undoubtedly poor I do believe they allow an identification when coupled with a description. The first photo shows the wing bar well, the second I think just shows a hint of crest (though I would be happy if others said I was guilty of wishful thinking) and the third gives a good impression of size.
Main navigation