Hedgehogs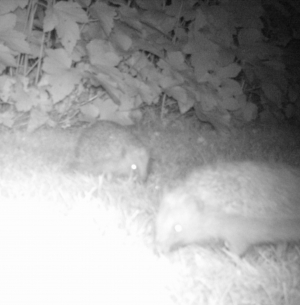 Observation - Hedgehogs - UK and Ireland. Description: I saw a fleeting glimpse of a hedgehog, so I put out a trail camera. It's flared quite a bit, I think it may be because I set it too low. Anyway, I realised when I looked at the photos and clips it had captured that (a) there were two of them, and (b)
I saw a fleeting glimpse of a hedgehog, so I put out a trail camera. It's flared quite a bit, I think it may be because I set it too low.
Anyway, I realised when I looked at the photos and clips it had captured that (a) there were two of them, and (b) these chaps were eating the remains of a chocolate cake that my granddaughter had droped the previous afternoon - you can't get all the crumbs cleared up, whatever you do.
But is chocolate cake good for them, that's the question (and I don't mean will it make them overweight). They certainly like it.
Main navigation