Very Large Bee - Norfolk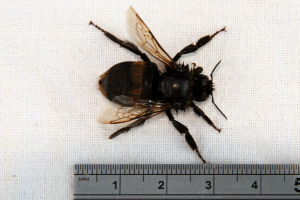 Observation - Very Large Bee - Norfolk - UK and Ireland. Description: I wonder if anyone could help with an identification of this very large bee? I've tried to identify it from various websites but unfortunately not been able to match the markings and especially the size (2.5cm body). It was found in my utility room sink
I wonder if anyone could help with an identification of this very large bee? I've tried to identify it from various websites but unfortunately not been able to match the markings and especially the size (2.5cm body).
It was found in my utility room sink (open to garden), hence it is very wet in the first picture but it gives a good idea of the size.
I placed it outside but unfortunately it had died by next morning. The remaining pictures show the true colours after it had dried out, with orange banding rather than yellow.
I would be very grateful for any information from the forum experts.
Many thanks.
Main navigation