Hornet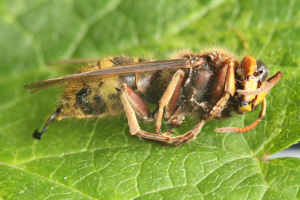 Observation - Hornet - UK and Ireland. Description: This hornet was found dead on a footpath in a small town, so there is no habitat appropriate in the list. A shame because they're such super insects. But it gave me the chance to photograph it with out it flying off. They eyes are interesting, I had ho
This hornet was found dead on a footpath in a small town, so there is no habitat appropriate in the list. A shame because they're such super insects. But it gave me the chance to photograph it with out it flying off.
They eyes are interesting, I had ho idea that the compound eyes had a pattern to them. There are three smaller eyes in the centre of the head.

There is some damage to this one, and also some drying out, I think. The sting has is extended, but has something sticking to it.
Main navigation