Common Darter, Female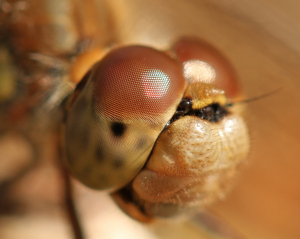 Observation - Common Darter, Female - UK and Ireland. Description: It's the eye that's interesting to me, because clearly visible is the junction between the upper and lower compound sections (open the picture and select original image; click on it to enlarge it). This was an uncomfortable shot to get, as the dragonfly
It's the eye that's interesting to me, because clearly visible is the junction between the upper and lower compound sections (open the picture and select original image; click on it to enlarge it).
This was an uncomfortable shot to get, as the dragonfly was sitting on a twig on the ground. I had to lie down and move slowly forwards. It ignored me for the most part. How I cursed myself for leaving the extension tubes in the car; I could have got even closer, though whether I could have held the camera still enough to make any difference is questionable. I only had my big tripod, so it was a hand held job whatever I did...
There were a lot of dragonflies over the heath on this hot and humid day; and a hobby was sitting in a tree, either fully fed or contemplating the meaning of life.
Main navigation