Invertebrate Storm Victims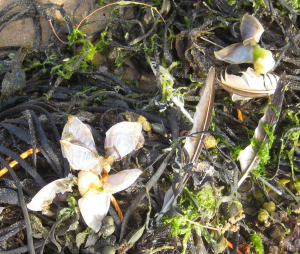 Observation - Invertebrate Storm Victims - UK and Ireland. Description: Found hundreds of individual animals (or each one a colony of up to 6? individuals) with soft, spongy, doughnut-shaped central portion (with dark 'spot' - mouth??) washed up on beach after storm. 4, 5 or 6 (some lost in storm?) pyramidal structures attac
Found hundreds of individual animals (or each one a colony of up to 6? individuals) with soft, spongy, doughnut-shaped central portion (with dark 'spot' - mouth??) washed up on beach after storm. 4, 5 or 6 (some lost in storm?) pyramidal structures attached with short, strong, flexible 'holdfast' to centre spongy material, arranged like 'waterwheel scoops' on a hub. Appeared possible they could be shaped to 'roll' (or be blown round), through water to travel and/or give each pyramid a share of feeding time. Each pyramid shaped, translucent, soft shell, possibly bivalve, contained a brown creature with flexible legs? tentacles? feeding arms?.... which may have been able to reach out when valve opened.
Strangest creature I've ever seen!

Local, who'd lived there 20+ years, said he'd never seen anything like them.
Does anyone know what they are?
Main navigation