Unknown Bush or Tree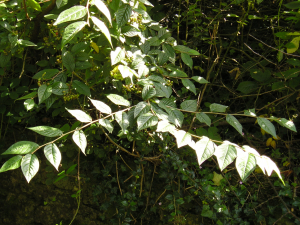 Observation - Unknown Bush or Tree - UK and Ireland. Description: Found on rough ground on the side of a beck opposite my garden. At the moment it is shrub sized and the leaves are aprox 3 to 4 inches long. Bunches of berries can be seen of which one looks like it will turn red. Could it be an introduced garden pla
Found on rough ground on the side of a beck opposite my garden.
At the moment it is shrub sized and the leaves are aprox 3 to 4 inches long.
Bunches of berries can be seen of which one looks like it will turn red.
Could it be an introduced garden plant or an indigenous species?
Main navigation