One for the invertebrates experts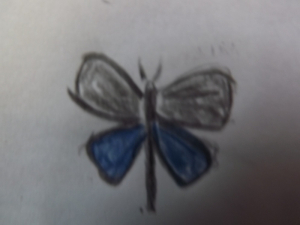 Observation - One for the invertebrates experts - UK and Ireland. Description: This insect flew past me as I sat on the riverbank. At first, I thought it was a small damselfly. It was following the the line of the bank. It landed on some vegetation about twenty yards further up so I ran up for a closer look. Unfortunately, it flew o
This insect flew past me as I sat on the riverbank. At first, I thought it was a small damselfly. It was following the the line of the bank. It landed on some vegetation about twenty yards further up so I ran up for a closer look. Unfortunately, it flew off again before I had much time to study the details and before I could reset my camera.
It was a very beautiful creature and I hope someone will know what it was.
PS sorry about the terrible sketch. It was an afterthought when I realised my post wasn't showing on the carousel.
PPS What's happened to my description? I wrote one in the ID notes box (actually I've done it twice!) but it didn't show up in the post so I'll write it again here.

Size: approx. that of a small copper or common blue butterfly
Body: slim & black - maybe 20mm or so in length.
Wings: fore-wings black; hind-wings deep iridescent blue. The fore and hind wings were deeply separated.
Main navigation