Musk Thistle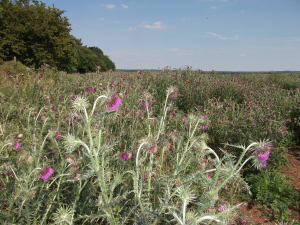 Observation - Musk Thistle - UK and Ireland. Description: There appears to be a crop failure here. I have never seen Musk thistle grow in such an invasive way before. I have had a lot of trouble with Kolrabi and Cabbage this year and was looking for advice. I think this reveals all as it does look like the cro
There appears to be a crop failure here.
I have never seen Musk thistle grow in such an invasive way before. I have had a lot of trouble with Kolrabi and Cabbage this year and was looking for advice.
I think this reveals all as it does look like the crop was supposed to be Oil Seed Rape and at the lower end of the field the wet has drowned it and left the ground bare.
Main navigation