Meta bourneti (Cave Spider)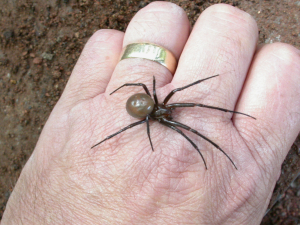 Observation - Meta bourneti (Cave Spider) - UK and Ireland. Description: This large Meta bourneti spider was found in the telecom sump at the Sherwood Forest Visitor Centre, Edwinstowe, Nottinghamshire. The sump is covered over resulting in damp conditions with all light excluded. Occasionally the cover is lifted to check the
This large Meta bourneti spider was found in the telecom sump at the Sherwood Forest Visitor Centre, Edwinstowe, Nottinghamshire. The sump is covered over resulting in damp conditions with all light excluded. Occasionally the cover is lifted to check the status of Meta bourneti.
The female was one of five adult females and an adult male inside the 1m x0.75m x 0.8m deep sump. Examination of the epigyne confirmed Meta bourneti.
For scale the ring on my finger measures 22mm diameter.
I would not normally handle Meta bourneti but this one made a run for it!
Main navigation