Jonathan - Tricholoma myomyces - 11th November 2008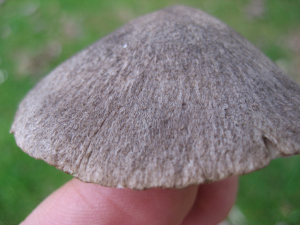 Observation - Jonathan - Tricholoma myomyces - 11th November 2008 - UK and Ireland. Description: According to the Collins Field Guide to mushrooms & toadstools by Courtecuisse & Duhem there are several grey Tricholoma species, but my specimens fit all of the following descriptions of T. myomyces: Cap < 8cm, dark mouse grey, fibrillose felted (it l
According to the Collins Field Guide to mushrooms & toadstools by Courtecuisse & Duhem there are several grey Tricholoma species, but my specimens fit all of the following descriptions of T. myomyces:

Cap < 8cm, dark mouse grey, fibrillose felted (it looks just like mouse skin, in fact!) [This is a diagnostic character]
Gills fairly close, whitish
Stipe <6 X 1cm, white, slightly fibrillose
Flesh white, smell weak
Habitat coniferous woods and wood edges often in grass. My specimens are
growing in a ring on grass beneath pine a tree.
Main navigation