Giant Yellow Flower Spike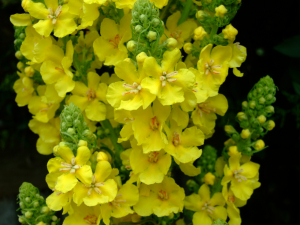 Observation - Giant Yellow Flower Spike - UK and Ireland. Description: This appeared at bottom of my garden in rough grass at the base of a 25ft high privet hedge. It's over 2m tall with a 2-3cm thick stem and 30-40cm leaves. At the top is a stunning 40cm sulphur yellow flower spike. What is it? Would it be wise to collec
This appeared at bottom of my garden in rough grass at the base of a 25ft high privet hedge.
It's over 2m tall with a 2-3cm thick stem and 30-40cm leaves.
At the top is a stunning 40cm sulphur yellow flower spike.
What is it? Would it be wise to collect seed and grow it as an alternative to hollyhocks or sunflowers?
Main navigation