12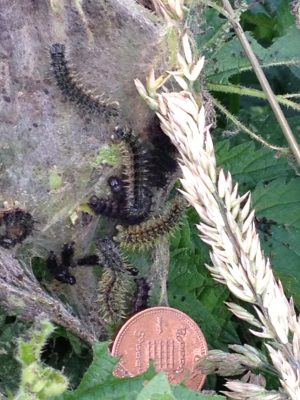 Observation - 012 - UK and Ireland. Description: I noticed a cluster of black caterpillars (1.5cms) feeding on the flowering head of a nettle a week ago. Since then they have spread (and grown to 2.5cms) to adjacent nettles and some have changed colour to green and appear to have thicker spines, I have
I noticed a cluster of black caterpillars (1.5cms) feeding on the flowering head of a nettle a week ago. Since then they have spread (and grown to 2.5cms) to adjacent nettles and some have changed colour to green and appear to have thicker spines,
I have also noticed that some have 'sewn' nettle leaves together with what appears to be silk from the underside and are taken shelter there.
I'd be grateful if anyone could identify these creatures and satisfy my curiosity.
Main navigation