Strange grebe behaviour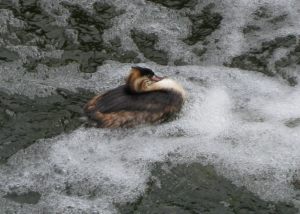 Observation - Strange grebe behaviour - UK and Ireland. Description: A couple of grebes have lived on our local lake for years. They currently have two fairly mature chicks, and have changed their behaviour. Instead of spending their time on the lake and the local brook, they have moved to the small weir - less than a metr
A couple of grebes have lived on our local lake for years. They currently have two fairly mature chicks, and have changed their behaviour. Instead of spending their time on the lake and the local brook, they have moved to the small weir - less than a metre in height - which is the weir outflow. Every day we see 1-4 of them at the foot of the weir, paddling furiously against the water flow. It seems to me that the water is too foamy at that point for them to spot any prey, but they have persisted in this behaviour for several weeks.
In the first picture here the bird has its head tucked back in a very awkward position. It isn't sleeping or preening because it is paddling furiously to stay in the same spot. It wasn't an injury or disability because, after a couple of minutes, it moved its head back to a more normal position as shown in the other pictures.
Any ideas about what is going on? Why pick such an odd spot to fish? Why was the bird holding its head in that way?
Main navigation