Unidentified lichens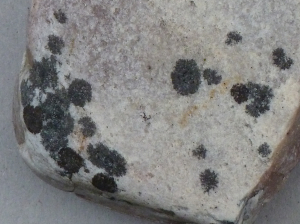 Observation - Unidentified lichens - UK and Ireland. Description: Found on the coast but well up on the shore with a path and a patch of grassland between it and the stoney beach. The larger lichen patch in the right half of the photo is 5mm x 7mm. Very dark grey appearing black from a distance. Only visible with a mag
Found on the coast but well up on the shore with a path and a patch of grassland between it and the stoney beach.
The larger lichen patch in the right half of the photo is 5mm x 7mm. Very dark grey appearing black from a distance. Only visible with a magnifier are pinprick, whitish apothecia
Bottom left of the picture are three black and slightly thicker looking lichens with, once again pinprick apothecia, that are more yellow but not a bright yellow.
I have to admit I don't know where to start with a name as I've found nothing like them illustrated.
Main navigation