oak1987kw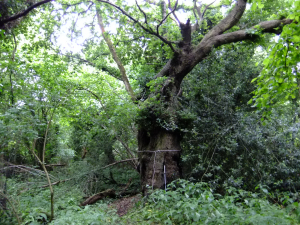 Observation - oak1987kw - UK and Ireland. Description: The oak tree is in an area of woodland on land owned by Bristol City Council on the northern slopes of Dundry Hill. The girth of the tree is 4.600metres at 1.500m high. The photo shows the cable I used to measure the tree. The oak tree is hollow and ther
The oak tree is in an area of woodland on land owned by Bristol City Council on the northern slopes of Dundry Hill. The girth of the tree is 4.600metres at 1.500m high. The photo shows the cable I used to measure the tree.
The oak tree is hollow and there are signs of burning inside. One of the upper trunks appears to be dead. There is some moss and ivy.
This area used to be farmland until the 1950's when Hartcliffe and Withywood were built.
Main navigation