Hackney's Marsh Frogs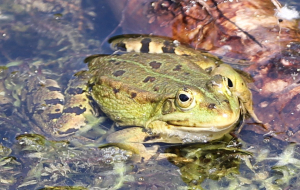 Observation - Hackney's Marsh Frogs. Description: took the bird lens and got better shots of these today - these are Dragonfly-eaters apparently. Springwatch were at this 10metre pond a couple of years ago but made no mention of these. On the way there this morning I met a man with an injured parakeet
took the bird lens and got better shots of these today - these are Dragonfly-eaters apparently.
Springwatch were at this 10metre pond a couple of years ago but made no mention of these.
On the way there this morning I met a man with an injured parakeet sticking out of his pocket.