Unknown Spider Hatchlings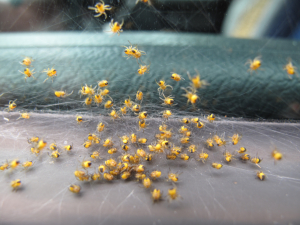 Observation - Unknown Spider Hatchlings - UK and Ireland. Description: Apeared on my car, protected by a tent of web, scatter rapidly in all directions when disturbed. Thorax slightly smaller than a pin head. These just appeared during the course of a day when I did not use the vehicle, there having been no egg sack previ
Apeared on my car, protected by a "tent" of web, scatter rapidly in all directions when disturbed. Thorax slightly smaller than a pin head.
These just appeared during the course of a day when I did not use the vehicle, there having been no egg sack previously (at least none visible in this location)
Have not seen spiders with this yellow and black colouring before. Possibly juvenile patternation ?
Any ideas ?
Main navigation