bracketfungi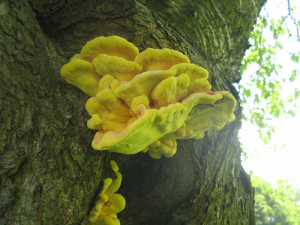 Observation - bracketfungi. Description: I spotted this bright yellow bracket fungi growing on a flowering cherry tree in my local park in Skipton, Yorkshire, UK, several days ago. Took the picture this morning. Unfortunately someone had poked the fungi with a stick and damaged it a bit. I'm a
I spotted this bright yellow bracket fungi growing on a flowering cherry tree in my local park in Skipton, Yorkshire, UK, several days ago. Took the picture this morning. Unfortunately someone had poked the fungi with a stick and damaged it a bit.
I'm afraid I know very little about fungi but having a quick trawl through the internet this morning it may be Laetiporus sulphureus (Polyporus sulphureus) also known as Chicken of the Woods.
Could any fungi experts confirm?