Ground Hugging Plant with Pink Flowers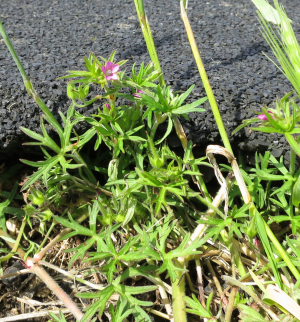 Observation - Ground Hugging Plant with Pink Flowers - UK and Ireland. Description: Ground hugging plant with five-petalled pink flowers (a bit deeper than they look in the photo). They are about a centimeter across. First impression - reminiscent both of Herb Robert and Goose Grass. Flowers emerge from bundle of leaves. Leaves div
Ground hugging plant with five-petalled pink flowers (a bit deeper than they look in the photo). They are about a centimeter across.

First impression - reminiscent both of Herb Robert and Goose Grass.

Flowers emerge from bundle of leaves. Leaves divide into three pointed and distinct parts half way along.
Main navigation