Ground Hugging Plant with Yellow and Red Flowers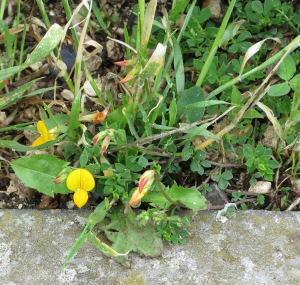 Observation - Ground Hugging Plant with Yellow and Red Flowers. Description: Ground hugging, spreading plant with yellow flowers that are red in bud. I thought my picture would help but there's such a jumble of plants mixed together I can't tell which leaves belong to this one. I used to think it was called 'Eggs and Bacon'
Ground hugging, spreading plant with yellow flowers that are red in bud.

I thought my picture would help but there's such a jumble of plants mixed together I can't tell which leaves belong to this one.

I used to think it was called 'Eggs and Bacon' but I now think I'm wrong.