hebrew character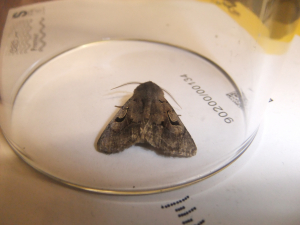 Observation - hebrew character - UK and Ireland. Description: This is a mottled brownish moth with a distinctive black marking with a white outline in the middle of the fore wings. The wingspan is 30-35 mm. It flew into my kitchen on the night of 17/18 March 2012. I've listed habitat as gardens and parks as this d
This is a mottled brownish moth with a distinctive black marking with a white outline in the middle of the fore wings. The wingspan is 30-35 mm.
It flew into my kitchen on the night of 17/18 March 2012. I've listed habitat as gardens and parks as this describes the area around where I live. This where the moth would have been before it flew into my kitchen. I've looked it up in is a couple of guide books and it appears to be a Hebrew Character. The black mark is not exactly the same as those in the books, but they say there can be variations in appearance. Can anyone confirm this or suggest an alternative.
Please note this may be a copy observation as I tried sending this in on 13 June 2012 but I'm not sure it got through.
Main navigation