Crayfish Remains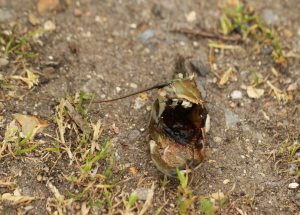 Observation - Crayfish Remains - UK and Ireland. Description: These pictures are of two individuals, dismembered and scattered in the same general area. There was at least one more. So what got them? Two obvious suspects - otter or mink. It's possible that it was a bird, perhaps a heron, though. They were all S
These pictures are of two individuals, dismembered and scattered in the same general area. There was at least one more. So what got them? Two obvious suspects - otter or mink. It's possible that it was a bird, perhaps a heron, though.
They were all Signal Crayfish, I'm afraid.
I've selected the habitat 'freshwater', though they were on the path. Whether they came from the nearby canal or the flooded pit isn't known.
Main navigation