Gooden's Nomad Bees (Nomada goodeniana)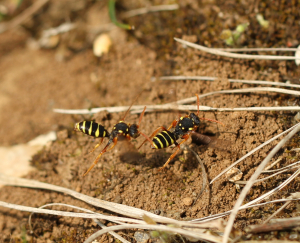 Observation - Gooden's Nomad Bees (Nomada goodeniana) - UK and Ireland. Description: Nomada bees are cleptoparasites: they lay their eggs in other bees' burrows, and the larva feed on the food intended for the original occupant. In this case, the victims are likely to be any of several Andrena species. They are sometimes called Cucko
Nomada bees are cleptoparasites: they lay their eggs in other bees' burrows, and the larva feed on the food intended for the original occupant.
In this case, the victims are likely to be any of several Andrena species.
They are sometimes called Cuckoo Bees, for obvious reasons.
Another name is Nomad Bees, because the adults have no fixed abode...
The second image is one of the victim species; and the third shows an emerging mining bee, an Ashy Mining Bee in this case (Andrena cineraria).
Main navigation