Fox, Rye Meads, 2012-05-15 007 reduced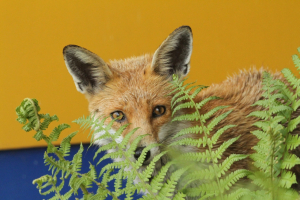 Observation - Fox, Rye Meads, 2012-05-15 007 reduced - UK and Ireland. Description: This is Alice the red fox again. She lives at Rye Meads RSPB, and has become quite used to people, especially since the staff gave her supplementary feeding last winter, as she had a limp (which she still has). When this picture was taken she was shelte
This is Alice the red fox again. She lives at Rye Meads RSPB, and has become quite used to people, especially since the staff gave her supplementary feeding last winter, as she had a limp (which she still has). When this picture was taken she was sheltering from the rain by the visitors' centre.
She doesn't always show up by any means - I've only seen her twice.
As far as the habitat's concerned, there's nothing in the list that fits!
Main navigation