Atherstone Snake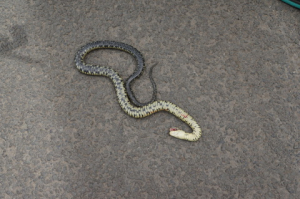 Observation - Atherstone Snake. Description: We found the pictured dead snake on a road south of Atherstone, Warwickshire. The area is known for Adders but this did not have the zig-zag back marking. It was about 2 feet long and 1.5 inches thick. Atherstone is supposed to be named when Romans fou
We found the pictured dead snake on a road south of Atherstone, Warwickshire.
The area is known for Adders but this did not have the zig-zag back marking.
It was about 2 feet long and 1.5 inches thick.
Atherstone is supposed to be named when Romans found Adders under a stone when building Watling Street (allegedly) !!!
I have seen gress snakes nearby but they have a white collar and this snake had a plain brown head and back
Any Idea what it is ?