Black Squirrel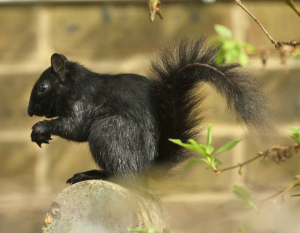 Observation - Black Squirrel - UK and Ireland. Description: This is the young black squirrel that appeared in an earlier post, when it ventured no further than a few feet from the entrance to the dray, in a nearby roof. It's now reached my feeders, as have its siblings. It looks small; and the hairs on its tail
This is the young black squirrel that appeared in an earlier post, when it ventured no further than a few feet from the entrance to the dray, in a nearby roof. It's now reached my feeders, as have its siblings.
It looks small; and the hairs on its tail seem to be a bit sparse. I think it's an optical illusion, due to its colour.
Though it's black, it's still a grey squirrel of course.
Main navigation