All Black Bee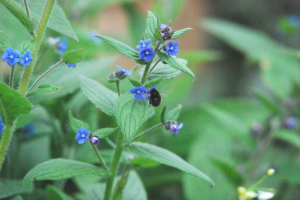 Observation - All Black Bee. Description: Spotted two bees flying in the lull between the rain. Light was poor and I had the wrong lens on so apologies for the really duff photos. The identification is a bit of a stab in the dark, know almost nothing about bees but these two stood out because
Spotted two bees flying in the lull between the rain. Light was poor and I had the wrong lens on so apologies for the really duff photos.

The identification is a bit of a stab in the dark, know almost nothing about bees but these two stood out because they were all black.

Feeding on Green Alkanet they looked at Garlic Mustard nearby but did not feed on it.