Lapwings Mob Greylag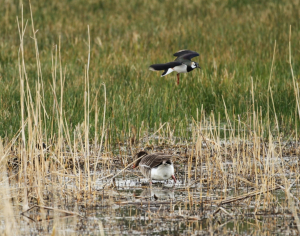 Observation - Lapwings Mob Greylag. Description: The Lapwings seem to have claimed part of this grassland as their own. Whether they've nested yet is hard to tell. But either way, this Greylag was most unwelcome. Despite the disparity in size, the Greylag was ducking to avoid the attacks. Last year
The Lapwings seem to have claimed part of this grassland as their own. Whether they've nested yet is hard to tell. But either way, this Greylag was most unwelcome.
Despite the disparity in size, the Greylag was ducking to avoid the attacks.
Last year I saw Lapwings mobbing a Pheasant in the same area.