Display 'dance' of two competing male swans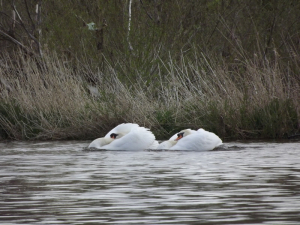 Observation - Display 'dance' of two competing male swans - UK and Ireland. Description: This was an extraordinary display by two males (subsequently joined by the female of the resident pair) which I have never seen before. The two birds circled each other for a good ten minutes in this 'aggressive' posture although there was no violence or
This was an extraordinary display by two males (subsequently joined by the female of the resident pair) which I have never seen before. The two birds circled each other for a good ten minutes in this 'aggressive' posture although there was no violence or contact between them.
N.B. The nest of the resident pair can be seen in picture 3 - at the edge of the river, in the reeds just behind the birds. (What I don't understand is why the resident male did not chase the other bird off his patch - as he usually does.
P.S. The female of the intruder was also present but did not get involved.
Main navigation