Red Fox Vixen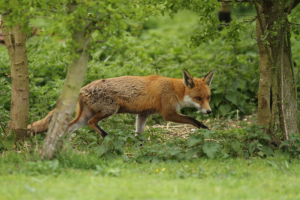 Observation - Red Fox Vixen - UK and Ireland. Description: This vixen has a story behind her. She has a pronounced limp, right hind leg, and the RSPB staff first encountered her last winter. They decided that without a bit of feeding she'd not make it throught the winter. She's now if not exactly tame fairly t
This vixen has a story behind her. She has a pronounced limp, right hind leg, and the RSPB staff first encountered her last winter. They decided that without a bit of feeding she'd not make it throught the winter. She's now if not exactly tame fairly tolerant of humans, which is how I got these pictures. She's had a litter this spring... They've named her Alice. I have no idea why.
She's not always there by any means. This was the first time I'd seen her.
Incidentally, this was an occasion when I cursed having a 500mm lens attached - most of the time I couldn't fit her into the frame, hence the close-ups. I kept walking backwards to get further away from her.
I've given the habitat as gardens and parks because that's the closest fit. In fact it was behind and in front of the Visitors' Centre.
Main navigation