Join the RSPB Big Garden Birdwatch January 28 - 30th, 2017
Join the RSPB Big Garden Birdwatch January 28 - 30th, 2017 - UK and Ireland : [upload-images-waxwing in carpark140.jpg] While out exploring nature and posting your observations on iSpot this weekend don't forget about the
While out exploring nature and posting your observations on iSpot this weekend don't forget about the RSPB Big Garden Birdwatch from January 28 - 30, 2017. You can still register and download a pack crammed full of information to help you make the most of your birdwatching.

Curious about what birds have been uncovered and posted on iSpot recently? Take a look:
Latest bird observations on iSpot Most frequently observed birds on iSpot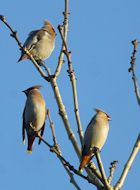 Can you find some observations that blow recent sightings out of the water, well, garden or park? iSpot user Scarpermac spotted Waxwings in a supermarket car park in December 2016, so it's possible to find some great observations nearby, even in places you wouldn't think of looking or right outside your front door! Good luck with your sightings!
27 Jan 2017
Janice A
Main navigation